While in Australia for Oz Comic Con, Michael chatted exclusively with TV Week/ Soap Extra's Erin Miller. The Young and the Restless in Australia runs about 8 months behind the U.S., so Michael's final scenes as Adam Newman had just aired and they had a lot of questions for Michael.
Here is that interview, in its entirety:
==================================================================
"My heart

BROKE"
Former The Young And The Restless favourite Michael Muhney speaks for the first time about his exit from the long-running soap
Michael Muhney dedicated almost five years of his life to portraying Adam Newman in The Young And The Restless.
Yet, reflecting on the role he left last December, Michael (left), 39, admits his time there has been "tainted".
"I had some fantastic opportunities and it was a fun ride, but did it end poorly? Sure," Michael says.
At the time of his departure, many media reports claimed Michael had been fired for groping a younger co-star.
In this candid chat with SOAP EXTRA, Michael opens up about the hurt caused to his family by the rumours, and his real motives for leaving the hit US soap.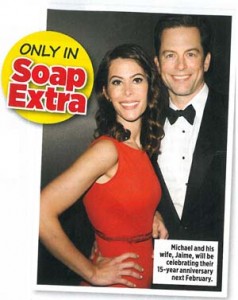 How did you feel about finally leaving the cast of The Young And The Restless?
I remember telling my wife, my agents and manager when I signed on: "I can't do this job any longer than four or five years." I'd never done soaps before and I know they tend to go longer than the average job. So I said that, but after a few years you get really comfortable in the role. It's very corporate. Like, you're providing for your children and you don't have to stick your neck out and go and audition. However, the last year and a half I was on the show, I became very frustrated – mainly just with myself.
Why was that?
I was going stir crazy and was locked into a routine. My character and the nature of how often he was in every other scene, there was a lot of memorising [of scripts] and there was never a day off. The grind was definitely wearing at me.

Did you have the feeling you needed to change your life?
I remember sitting down in the final 10 months of my tenure with the executive producer and saying: "Things have to change. You guys are going to have to fire me or I'm going to have to quit." I told them that several times.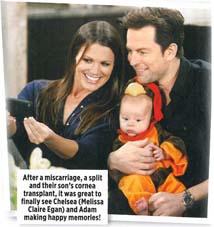 That's quite a big thing to drop! Was it hard to tell them how you felt?
I was torn. I was playing such a wonderful character and providing for my family, but I'm at the age and look in my career where there are so many projects out there. When the dust settled, I remembered that was the original plan. I wanted to do it for four or five years, and I did it for four and a half very intense years. To say I feel a weight lifted off me and a new-found sense of freedom is probably the understatement of the year.
There were allegations your behaviour was what got you fired. What is your response to people who think that?
I've never spoken out. I wanted a long time to go by because I didn't want to be this person who was desperately reaching out and screaming and saying "I didn't do it!" First of all, there is no one anywhere, of any official capacity, who ever made any of those allegations. If there were, I would be the first person to come out and say, "Hey, now I've got to take you to court because what you've just said is lies and I have to sue you for libel and slander." CBS [the American network that airs The Young And The Restless] said to me: "We know none of this is true. This is the world of the internet and social media, and it's probably the wisest thing just to not comment on all the rumours out there." And I agreed with them.
How do you cope with that, then?
Basically, I've summed it up in an old quote attributed to [author] Mark Twain: "A lie can travel halfway around the world while the truth is putting on its shoes." I never felt compelled to dignify any of it with a response. It describes something I've never done and never would do. Period.

Did you have suspicions there was someone out to besmirch your good name?
I didn't have suspicions – I was told. A producer said to me: "When your star shines very bright, you have a very large target on your back. So be careful." But if you walk around in this industry with a bunch of fear, you'll go nowhere. I guess you could say that being an actor is hard. You go to college and you train and you study and you learn what can be taught in books, but there are no real classes that teach you how to deal with fame or infamy. When people want to talk about you, they will; it's an occupational hazard in my line of work? I'm probably a speck of dust on the planet compared to the likes of George Clooney and Brad Pitt – can you imagine all the false things that are said about them? You just have to roll your eyes, stay out of it and let time and common sense take hold. I have nothing but forgiveness in my heart for anybody who made up the rumours about me – they have their own guilt or shame to deal with now.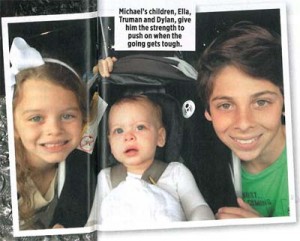 You're married with three children (Dylan, 12, Ella, six, and Truman, 22 months). Was it hurtful for you and your family to hear those things being said about you?
Some of it wasn't tough at all, and some of it was really brutal. The not-so-tough part was my wife, agents, friends and all my female co-stars. You wouldn't believe all the texts and calls I received that said: "I've known you for years – you're not the person to do that." The hard thing was my kids. My eldest is old enough to read things online. The hard part was sitting him down and saying, "You might hear some things about your father, but you have to know what the truth is and that it didn't happen." That was where my heart broke, for the people closest to me and my little children.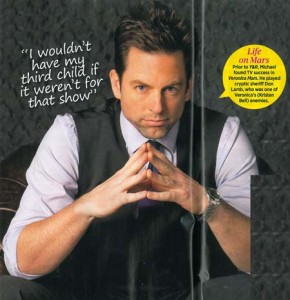 It was nearly five years of your life. Do you look back fondly on your time on The Young And The Restless, or has it been tainted?
It has been a bit tainted. Of course you go, "Gosh, was it all worth it?" But I have some very good friends I made during my time on the show and I learnt so much about myself as an actor. And also, I wouldn't have my third child if it weren't for that show. My wife and I had always wanted three, but we had a boy and a girl and they were healthy, so we thought we'd stop there. When we were into the show a few years, I thought, "Well, I'm going to be here a while longer – let's go ahead and have the third baby, like we wanted to." I have my youngest, Truman, because I was on that show for so long. So nothing is bad enough or could have tainted what I got in the end, which was my youngest child, so I'm forever grateful.
There was speculation you were in talks to return to the show. Did you consider going back?
I did consider it and there were talks with CBS and Sony. Because the talks went on for a few months, I started to grow a little more comfortable with the idea. They were debating a storyline for me to come back, which would have been a huge reveal, even to my own cast mates. We were going to shoot a small scene privately and just insert it into an aired episode [for a surprise]. That was going to be how it was announced that I was coming back. I loved it and thought it was a really great idea. But of course, my heartstrings were being pulled from a whole host of other areas. I was thinking I wanted to be this nomadic actor who plays lots of other roles. If I went back, I wouldn't have been going back for a couple of months, I'd really have to go back for a substantial amount of time. In the end, it all fell through.
The role of Adam has been recast with Justin Hartley. How do you feel about that?
Well, it was inevitable for that to happen. All these talks I was having, it was either going to be me or someone else. I'm very possessive of characters I play, and in my mind, I'm like, "This is my baby." But you know, there's a new incarnation of Adam coming and I really wish Justin well. I know Justin and I like him. I think he's going to be a good fit for a lot of reasons.

Would you be open to appearing in any other soaps – daytime or otherwise?
I'm an actor for hire, so if there's a juicy enough project…
What role is up next for you then?
That remains to be seen. There are a few balls in the air, but nothing I can mention just yet…
There are a lot of great projects right now.
I think television right now is better than film! It's certainly in its golden era – there's such a breadth of projects out there. They can push the envelope and things can be quite gritty, and I like that. The more realistic, the better. I definitely want to dip my toe in there and that's why I'm glad I'm on this path.
Deep down, what kind of character would you desperately love to play?
I like to make characters a little more sinister or Machiavellian – but then the majority of people don't get to see the other side of me. So there's a part of me that would like to try to play a good guy for a moment, but I think it would really only be for a moment.
Did you think about quitting acting this year because of all the drama?
Oh, no. If all the stuff that was said were true, I'd have to hide under a rock, but knowing it isn't, how can I let that mess with me and with my job? You get knocked down and you get right back up again and keep moving. I'm so passionate about acting. There's nothing that is going to stop me from pursuing this as my career.
ERIN MILLER